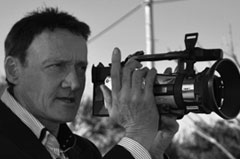 About Glen Redgate
Glen Redgate has over 20 years experience in photography and video production and keeps up with the latest of technologies.
He has been involved in numerous documentaries and television programs for Channels 7, 9 and 10 in New South Wales. He has photographed such celebrities as Tina Turner, Olivia Newton John, Peter Brock and Michael Caton. The many photographers at Studio 007 are personally trained by Glen to keep his high standards. His wealth of experience and expertise ensures good valued, prompt and efficient services of the highest quality.
Glen is multi-skilled like a modern day renaissance man. Complementing Glen's photography and video production is his ability as a draftsperson and painter.
Glen is also an experienced vehicle designer. Glen's insights into his customer's personalities and needs are enhanced by his knowledge of astrology.
Glen is an International photographer and videographer, his portfolio includes work in the Middle East, China and Europe.